This small guide will explain what the traits do in Koikatsu Party game.
Many of these quirks effects was found: playing around in game, confirm by other on the Japaneses version wiki, and other players. For the most part everything is straight forward.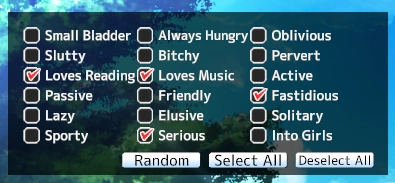 Small Bladder:
She will go to the bathroom more often.
Always Hungry:
Often performs related eating animation (So expect to see her somewhere eating).
Oblivious:
Doesn't get upset if you grope during conversation but her affection will raise at a slower rate.
Slutty:
Increases the rate that they gain affection
♥♥♥♥♥♥:
Does not get upset if they see you in restricted areas (bathrooms, locker rooms, etc). More likely to masturbate in open areas.
Pervert:
Increases affection rate when talking about lewd things and will follow the male characters into female restricted areas (bathrooms, locker room, etc)
Loves Reading:
Often performs reading animation (So expect to see her sitting down and reading somewhere)
Loves Music:
Often performs animation of listening to music (Expect to see her listening to her headphones)
Active:
Will perform twice as many animations as other girls. (So where other girls do 1 or 2 animations before moving )
Passive:
Increase rate they gain affection when asked questions by the player. Also increase the rates you gain experience on sex acts if the player assume a dominate role (I haven't confirmed but I believe this is fondling actions and insertion actions)
Friendly:
More likely to seek group and be around other girls. Increase affection rate.
Fastidious:
Often performs animations of cleaning (Expect to see her wiping off desk, sweeping the floor, and etc)
Lazy:
Sex rates increases at a slower rates when performing sex acts that require the girl to take the iniative (Such as blowjobs, handjobs, etc)
Elusive:
More likely to teleport around the map.
Solitary:
Stays around from the other girls. More likely to go an area of the map with the least amount of people.
Sporty:
More likely to perform animations of them exercising. (So expect to see them stretching or doing laps around the field)
Serious:
Decrease the rate affection raises when discussing lewd things with them.
Into Girls:
Will do lesbian acts with other girls with this trait.
Another guides for Koikatsu Party:
コイカツ / Koikatsu Party Default Character Guide (Quirks, Questions, Tastes)