This is the official game guide for "Gold Drill". We hope you can help us proceed with the game.
Tips for Cheat Code
How to use cheat codes:
– Stage Select > stages (only)
– Start the in-game then press the "H" key.
Consequence:
– You can watch the VCR
– Aachieve one's achievement
– You will get 3 hearts
– If you use it, It will be saved as "Cheater"
but…
Don't worry.
The level of difficulty of "Stage Select" is "Chicken"
Thank you.
Emergency mode?
If someone knocks on your room during gameplay…
Press the 'Spacebar' key on the keyboard or the 'X' button on the controller
then…
'Saving the Lambs!' The cute game begins!
Protect yourself from your mother or sister
But…
The game is easy and cute, so women can like it…
Be careful
How to get a hints
It's a puzzle game, so there will be a lack of hints.
How to get a hints…
1. Emergency Mode
Press the 'Spacebar' key on the keyboard or the 'X' button on the controller
Let's start the game
Hints will be added as much as lamb is saved in emergency mode
2. Click on photo obtained
After moving from "Lobby" to "Photo"
Click on a specific point in the photo you obtained
You will get 15 hints for each photo
Introduce the block
Let's find out about the types of blocks!
1.normal
hold the click and drag to move the block.
If you drop it in a right location, the movement is completed
2. Rotation
Click on a block with rotation mark to rotate the block
3. Lock
There are blocks that can't move
4. Bomb
If a block with red numbers is moved more than a certain number of times,
It explodes and disappears
5. Ice
The block with an ice icon will freeze and become immobile when connected.
If you move another connected block, you can move it again
6. Question mark
The block with a question mark is a block whose shape can only be confirmed by connecting
7. Count
If the block marked with a green number moves more than a certain number of times,
it becomes a block that can no longer be moved
8. Time
When the time-counting block over in time limit, the surrounding blocks can not move
How to play?
If you know which block you're going to drag,
You're already ready!
If you don't know…
Drag the block with the mouse
and
Don't hesitate to look at the hint
View the global leaderboards
1. Community Hub >> View Stats >> (Global Leaderboards)
2. (Selected list) >> Show
Challenge 12?
You don't need to clear the 'challenge' sequentially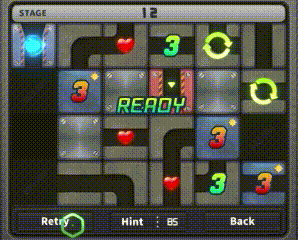 1. Remove the bomb & A,B,C,D,E,G Drag it(See next screenshot)
2. F,H,I,J,K,L Drag it(See next screenshot)
3. A,B,C.D,E,G,M Drag it(See next screenshot)
4. Complete
0xc0000005 Error Issue
Add "-force-d3d9" to the launch options
Have fun ❤