I didn't know I'd come across such a thing =). BustyBiz is built on the principle of such a compote ©. This game seems to be a compilation of the most successful and unsuccessful mechanics of modern F2P browser-based erotic games.
The game follows the trend for F2P games. You develop another Porn Business, sort of like in Cunt Empire, but here's the surprise – in this game we have a whole bunch of businesses 😀
Gameplay
Obvious similarities with other games of a similar genre.
Tower business, with levels of development. In my opinion – Calcus on the acclaimed Cunt Empire, only in contrast to it here – a bunch of businesses built on similar mechanics, except that without the mechanics of clickers, which is a plus.
Communicating with girls in the form of chat with a limit on responses to them – hello Fap Ceo. In BustyBiz as well as in Fap Ceo it is not important what you answer. But at the end of the dialogue girl always have to give a gift in exchange for Fap Ceo. Practically 1 in 1.
Rebirth mechanics taken straight from Fap Ceo, Fap Titans and Fake Lay. In my opinion, this is the most negative succession. Although I did not feel any problems with rebirth at the moment, I smell a catch beforehand, given what a catch it was in Fap titans & fake lay… But, I can confidently say that in BustyBiz it is made better.
So the first thing that catches your eye is that there's a lot of business in the game this time, but that's about the only thing that makes BustyBiz different from other games of similar genre.
In the first minutes of the game the player is presented with a local "world map". Each dot on it is another business lined up in the form of a tower with levels. Everything here has levels. Each girl, each floor of the tower, each location, each skill, and last but not least, the main character's skill.
Almost every location in the game, in addition to a separate "business" also opens scenes with girls. Given the number of these locations in the game, as well as the mechanics of developing a bunch of businesses at once, the game turns into a mega killer of your time resources.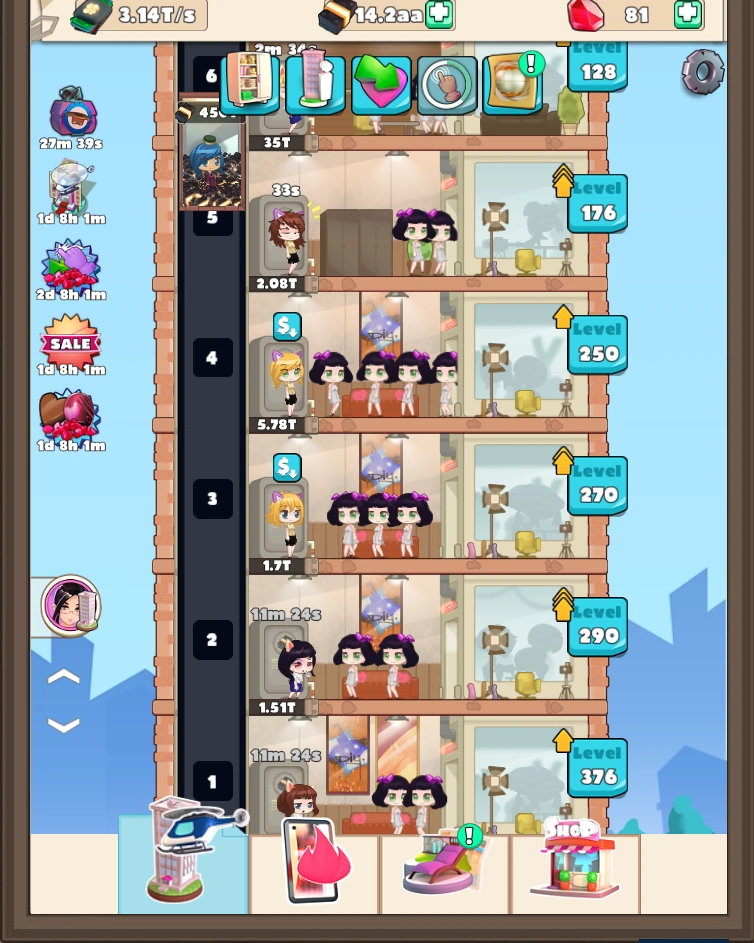 It's quite realistic to spend 5-10 hours in the game and not even notice how quickly the day has gone by. It's all about the sheer number of activities. BustyBiz is like saying to you – call yourself a boss, run a business. And so it is – there's always something to do in the game, whether it's pushing through boosts or upgrading floors on a level, and there are many levels, mind you, and while you develop one, you'll accumulate your own currency on the other. You'll get fired from your job within a month thanks to BustyBiz and your wife will kick you out with the laptop to the staircase so you'll never see your virtual babes again. Speaking of virtual girls…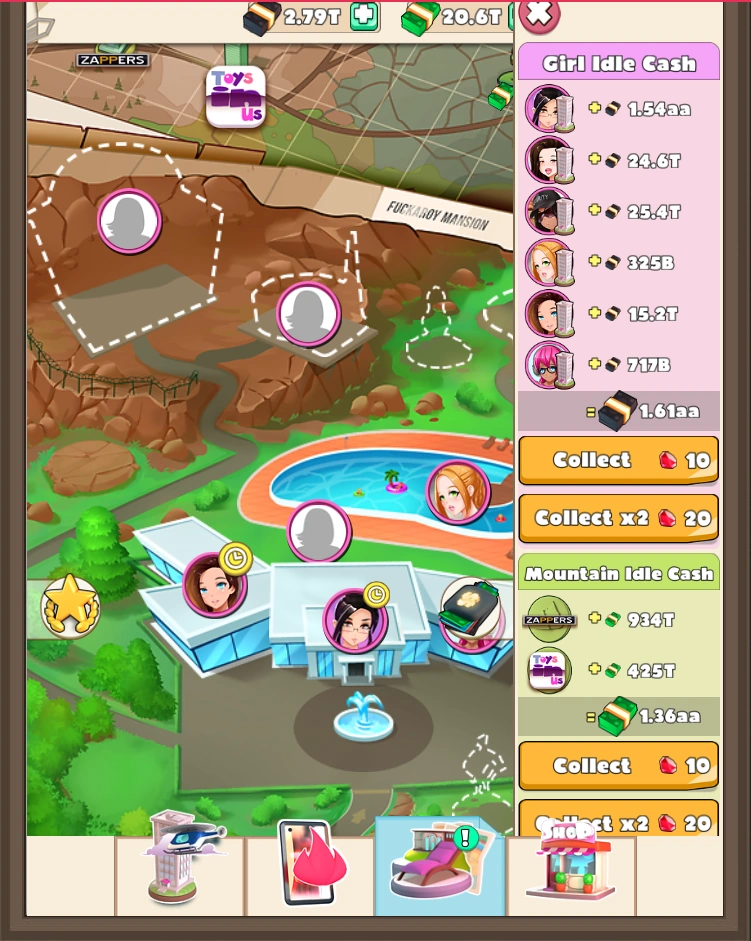 Fapability
BustyBiz isn't just about gameplay. Unlike many F2P wankers, this game has tried to make good adult content within the genre.
First of all, it's all about animations. We do not get dry pictures with familiar heroines, do not get bogged down with vulgar conversations. Almost the main trick in terms of fapability in BustyBiz is that all the main scenes with the main heroines here are animated and interactive.
Yes, there are some simple pics here too and they are obtained through the usual "chat" with girls in a manner of Fap Ceo, but you pretty quickly forget about this in favour of business development. It's the businesses that open up the main adult content here, and they're what serve as the "measure" of progress in the game.
Donate
The game naturally has donation, but there is no competitive momentum. Due to the lack of any social content, in my opinion there is no point in donating to BustyBiz. However, if you really like the game and want to get higher as soon as possible…
In my opinion, the only thing you can justifiably donate to – on a passive 2x boost to profitability. Such boosts in the game two, one works when you are in the game and costs $ 6, the second doubles the profit while you are offline and costs $ 7.
Anything else does not make any sense, donat currency is perfectly mined in the game. I haven't found any items that are only available for donat currency.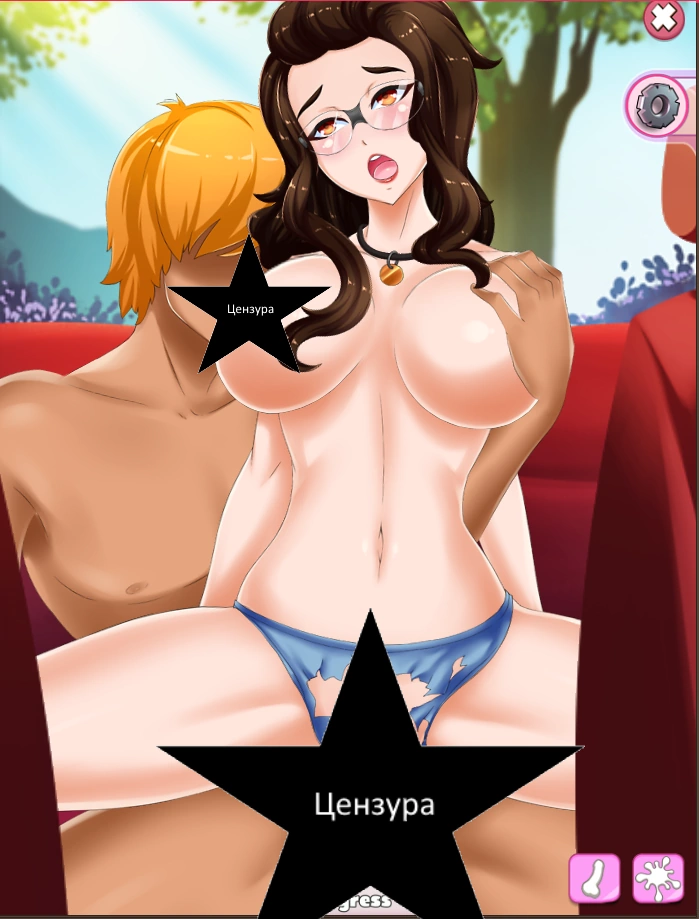 Differences between the versions of BustyBiz
I was able to find the game in two versions – Steam and Nutaku. At first glance, the games are exactly the same, the only difference being that Steam runs the game as a client, while Nutaku runs it in its built-in browser. However, it's not all that clear-cut, alas.
I really like it when games, even simple browser games, have a separate client. Unfortunately, the Steam version of the game, despite having a built-in client, carries a huge disadvantage.
The fact that the game belongs to the Idle genre for a reason – it involves the development of the game regardless of whether the player is on the computer or not. Steam version of BustyBiz completely stops all the progress in the game, stupidly leaving it on pause even if you just switch to the browser. This fact simply kills the Idle concept of the game and makes you always sit in the client, so in the case of this game, I suggest playing it on Nutaku, there is no problem.
Verdict
A cool, really cool time-killer. It's addictive, so I can easily recommend it as good entertainment in places where you really need to stretch your time. Most importantly, the game does not disappoint, it offers you exactly what mobile phones are good at, and does not require any investment. Yes, you're unlikely to get a posh, but you'll often see beautiful girls and have a good time.