The developers of Angry Bangers have found a good recipe for an enticing mobile game. Most likely, the plan was this:
Render high-quality videos in the manner of a visual novel, to all of this attach sensible gameplay with good for mobile and browser graphics. Throw in daily activities, PVP system, so players can compete in something, and voila! What could go wrong…
About Angry Bangers
The plot of the game is purely for show and is present only to justify our presence in the local criminal world. Our hero gets into trouble, during which his beloved girl is stolen, so we assemble a team of bandits and go in search of her.
The story part of the game is a city's map, where we are passing the levels, recruiting new heroines and discovering local juicy scenes. In general, at first the game is very pleased with the quality, it's even hard to imagine such good game mechanics in a free adalt wanker. After you pass all the levels in one city, the next one opens for us, and there – new gangs, new recruits, and each gang has its own advantages and disadvantages. Thus, passing the story missions we have the opportunity to form their own invincible battle team.
Worthy of praise
The game has very good gameplay, made in the form of isometric turn-based tactics. A similar combat mechanic was also presented in Subverse. Each battle consumes local energy, which is normal at first, we are quite used to it. Four characters from our roster go into battle, but some missions require specific characters to pass, which by that time we definitely have. As I said above, each gang has its own bonus. The Russians, for example, get a bonus to damage after moving, the Freaks return some damage to the attacker, and the cops have armor from the start of combat.
In addition, each character has a personal, not always useful ability, as well as its own type of weapon, which also decides in tactical battles. For example, a sniper rifle or automatic rifle can punch through the target, causing damage to the units standing behind. In the future, the characters open up even more useful abilities, both passive and active, which plays into the hands of gameplay even more.
PVP in the game is also executed…well, controversially in some moments, but normal. Players in Angry Bangers fight with each other, not with the bots. The heroes' pumping system motivates players to go to the arena even with the most lowlevel characters, which ensures constant pvp activity without having to wait for their opponent. It's possible that some battles are indeed fought by bots, but overall I got the feeling that I was playing with real players. Some players just autobattle and walk away. During autobattle AI tends to be very stupid, does not take advantage of your chosen gang and often loses because of this.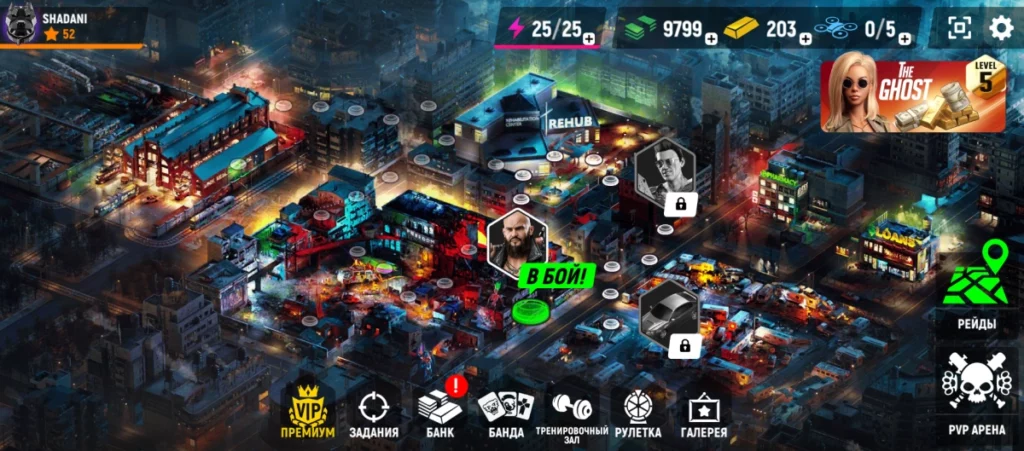 …and everything seems to be fine, BUT!
Why Angry Bangers Sucks
The developers obviously don't have a clue how to make games at all, or they don't expect you to stick with Angry Bangers for very long.
It's all about the pumping. The funny thing is that the game pretty quickly puts both a "temporary wall" and a "donation wall" in front of the player. Time wall lies in the fact that already on the second city you will not have enough power to fully continue the storyline, and therefore you will not be able to recruit new characters.
In order to pump a character, you need to play them in PVP battles and win. Winning in PVP character gain experience, but to move it to a higher level also requires local currency – dollars. Dollars are earned during the campaign, but … We can not pass the campaign – we do not have enough power. Repeat missions that have already been completed is impossible! Therefore, the only activity in the game when you're stuck is PVP. The reward for winning PVP depends on your rank, but it's always so paltry that you have to play a whole bunch of PVP battles.
To give you an example – it takes $6,550 to raise your character from level 6 to 7. For winning PVP on the silver league you will get only $270. That is, to accumulate funds to raise the level of just one character, you need to play 24 arenas, and win at them. And even here the developers put a stick in the wheel.
Defeated or wounded in PVP characters require time to restore health. The time of this recovery will depend on the maximum health of the character. As a result, it can take days, WEEKS to ap one character, especially if you are unlucky with enemies. Yes, it happens that there are weak players, or players through autobattle. But there are also rich donated players, who in Angry Bangers fuck everyone bought rare characters, for the opening of which you have not even reached the campaign.
Most of the time the game throws you similar ranked players, but not always.
The game is not developing
I've tested the game for three months, specifically to see if there is any point in playing it at all. The fact is that the game has no events, no development. The game is just there, it feels like some publisher has stupidly paid the developers for the finished product, which will be some kind of gameplay, some commercials and some kind of monetization. In this form and rolled it on the market. For three months the only thing that changed in Angry Bangers was the donation offers and that was pretty much it.
I predict that the game will not develop in any way. In Angry Bangers has bugs, sometimes critical, such as the game freezes in pvp-battles. Most likely the publisher is not going to develop anything – he's just ready to plunder the dough. This approach reminds me a lot of Cunt Empire, which I also once called a donation dump. From time to time I visit it to see if anything has changed, and no, everything is the same. In this game everything will be exactly the same.
About Donate
With this approach to PVP, the number of games needed to apa just one heroine can safely be multiplied by 2 and take into account the time to recover the wounded. But…Naturally, everything in this game is designed to squeeze the maximum out of you.
Angry Bangers has the most horrible donation at inadequate prices, but you're free to buy almost anything for it. Want to speed up your progress? It's $25 a month for a premium account. Want to instantly heal all your fighters? Easy, buy a first aid kit and go for it. Want to get a passive buff for all your characters? No problem, just roll the lootboxes. Not enough local currency for the Persian? Not a problem-$15 and probably enough…maybe.
You may get the feeling that I'm picking on you, because in almost all of the donate floodplaces, which is exactly what Angry Bangers is, introduced a similar system of donation. Yes, introduced, that's just in most browsers and mobilok this does not prevent you from enjoying the game, they usually give you the opportunity to play without donation. Angry Bangers, on the other hand, has chosen a very different path. It gives you a paywall you've never even dreamed of, the paywall completely blocks your ability to play the game.
Even assuming you decide to take this game diligently, it's likely that it will take you weeks to unlock every new point on the map.
Fapability
It's hard to talk about the fapability of this game. On the one hand – in Angry Bangers really not bad renders. The game's trailer doesn't lie, it's really all there, but it's done in the best tradition of what we've seen in all sorts of RenPy novels. That is, just looped short animations.
A stone to the developers can also be thrown at the fact that they have a total of only 13. Absolutely all of them we will open at the very beginning of the game, then we have to open only the different character art, which are also drawn cool, but…and that's all?
Well, kudos to the game for trying, but the content is too scarce to adequately talk about fapability. The game probably deserves 3 ❤️❤️❤️ of 5 for the quality of the rendering, for the beautiful heroines, and for getting all the few clips quickly. Probably even 3 minus, because the length of the clips offered to us is not more than 10 seconds. Agree, very few people have enough for full enjoyment =)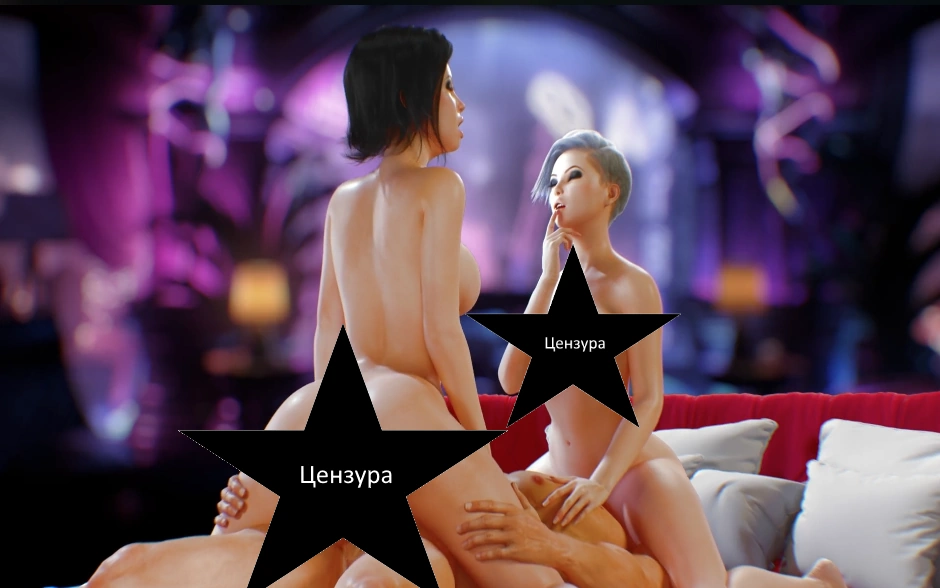 Verdict
If the developers had made a full-fledged game based on this kind of mechanics ala-tactics, they wouldn't have been worth it. Instead, they chose to make a donation cesspool. Well, I highly do not recommend Angry Bangers even for review. You'll most likely be wasting your time.
If you still want to get acquainted with such a representative of cell phones for adults – the game is on the service Nutaku. Please do not donate to it, believe me, a man who has seen a lot of similar games-order. It will never change, it will never get better, and its publishers will never learn the lesson about making good games, not good donation. Unfortunately, all they see in these games is money, your money, and they don't care whether you like the game or not. If we support this approach, there will be more and more of these games.
In my opinion, if you just want to play some grown up mobile/browser game, you'd better look at SF Girls. It's on the Nutaku service too, and the game is evolving at such a pace that every manual I have for it gets outdated with every patch. Yeah, maybe it doesn't have that serious fapability, just attractive girls shooting enemies, but as a game it's still much better than such a mediocre gameplay-design stunt like Angry Bangers.