The scenes and endings with the Mistresses Dahlia and Samiya. Endings 17, 18 and 19. And also ending 14 (Polly and Nora).
Spoilers! It's obvious that every walkthrough guide contains a lot of spoilers.
If you want to avoid any kind of spoiler, you should do your first playthrough without reading any guide or post in the forum.
You also may like:
Fetish Locator Week One Optimized Walkthrough
Fetish Locator Week Two Optimized Walkthrough
Fetish Locator Week Three Harem Route Walkthrough
Guide content
This guide focuses totally on Dahlia and Samiya. It isn't possible to use a save from my Harem guide. This guide is more compact, because I assume that you already have made at least one playthrough. All these ending are not fully implemented.
14 – Polly & Nora with Polly and Nora
17 – Not guilty with Dahlia
18 – Quartet with Dahlia and Samiya
19 – Hidden Ending alone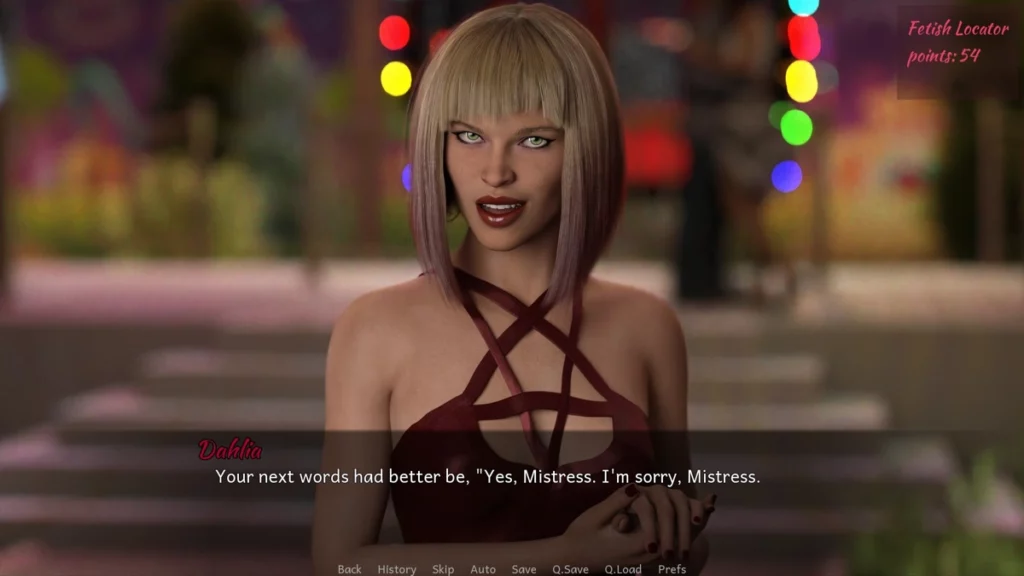 Saves
Fetish Locator 3 allows you to choose a name for your save files.
This guide contains save hints at important points.
Fast forward
With the CTRL key we can skip parts of the game which we have already seen. For Germans it is the Strg key.
Used Symbols
– choice
! make a save
# scene
Start
I recommend to create a new start by answering the questions.
– Name:
– Fetish Locator name:
1) Fetishes: Choose all green answers
– Yes to all.
2) Min, Lyssa and Maria: none
Nobody
3) Amrose and Lydia: Choose all red answers
– AmRose: Slave and no Kiss
– Lydia: No
4) Daisy and Dahlia
– Dahlia
5) Other girls: Only Polly and Nora
– Polly and Nora
6) Nora and Pete
– Nora:: No
– Pete: Yes
It's not necessary to watch the recap, but fun.
Monday (15) and Tuesday (16)
!Save "Dahlia15Start"
Monday, day 15
AmRose's flat
– Decide Which Cage to Wear
Only on a LC path we can reach ending 18!
– LC
# Lydia and AmRose LC path
Dorm
– Invite Dahlia and Samiya here to talk
# Dahlia and Samiya (dorm)
– Let them work out their anger
– Let the girls think …
Park
Meeting Polly and Nora
– Inquire further
# Polly and Nora (park)
– Tails
– Put on a …
– Say that's enough for today
Meeting AmRose, Stacy and Hanna
Tuesday, day 16
AmRose
– Not right now
– Refuse Lydia's request
-Tell her how you ca_ while she was under the table
# Spinning chair
Wednesday (17) and Thursday (18)
AmRose and Lydia
# AmRose and Lydia on LC path (in flat)
Iona and Hana
– Refuse
# Hanna (on boat)
!Save "Dahlia17AmusePark"
Now the paths of Dahlia/Samiya and Polly/Nora are forking. You can go with only one couple to the amusement park.
Dahlia path
First we do the Dahlia/Samiya path.
– Respond to Dahlia
Funhouse
# Dahlia and Samiya (in the funhouse)
Polly path
– Respond to Polly and Nora
# Polly and Nora (ferris wheel)
– We make a good trio
Common path
Lydia and Stacy
Day 18 Thursday, Lydia
# Lydia's Blow_
Dahlia path
Dorm
!Save "Dahlia18dorm" (only on Dahlia path)
# Samiya, Dahlia and Pete
– Fu_ Samiya
– Yes
Common path
First try to get into the server room
Claudie
# Claudie Fulton
– Keep F_
Server room
– 0071
Street
!Save "Dahlia18End18"
We can come back later for this ending 18 Quartet. It isn't implemented so far.
– Get drunk int the bar.
Friday, Saturday and Sunday (Days 19-21)
Day 19 Friday
Police station
– Tell her it was fun
Dahlia path
Dahlia's dorm
– Go to her
# Dahlia (with support from Daisy)
– Don't
!Save "Dahlia19End17"
We can come back later for this ending 18 Not Guilty. It isn't implemented so far.
– It's probably for the best
Polly Path
!Save "PollyNora19End14″
– Go with Polly and Nora (ending 14)
# Polly and Nora (cafe)
It seems they did already start with making this ending, but didn't fnish it.
If you already have played the path of Dahlia, then you have reached all endings of this guide.
Common path for ending 19
AmRose's flat
– Don't
Loose the mini game.
Day 20, saturday
Exam
– Charles Dickens
– Subdue the enemy
– … there is great inequality
– Liar's poker
Server room
– Side with AmRose
– No, I don't …
Day 21 Sunday
Hana
# Hana (dorm)
– No thanks
Police station
– Tell about …
Not reaching an ending is also an ending … We get the hidden ending 19!
This guide was made because I love this game. Obey and serve the Mistresses!!
Have fun ❤